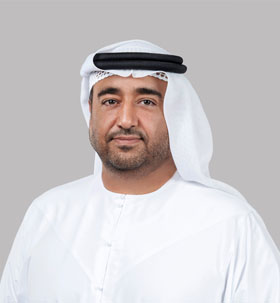 H.E. Rashed Lahej Al Mansoori
Director General
Abu Dhabi Customs plays a leading and vital role in the prosperity of Abu Dhabi through the continuous support it provides to the economy and security of the UAE in general and the Emirate of Abu Dhabi in particular, where it contributed to achieving sustainable development of the Capital and the development of its competitiveness in the field of international trade and enhancing its prominent economic position regionally and globally as well as preserving national security and protecting society.
Abu Dhabi Customs adheres to the wise directives of His Highness Sheikh Mohammed bin Zayed Al Nahyan, President of the State, in adopting integrated strategic plans to enhance the UAE's global economic standing, while also ensuring security and safety for the community. This is achieved by developing customs services, collecting revenues, and regulating the management of passenger and goods transportation by employing advanced technology and adopting the technologies of the Fourth Industrial Revolution and applying the best global practices in this field.
From this standpoint, we directed the necessity of commitment to implementing the strategic and operational plans of Abu Dhabi Customs, and creating distinctive cooperation and partnership relations with various government and private sectors and institutions, in a way that ensures providing advanced digital services to reduce time and effort on dealers and the business sector, and achieves our vision towards global leadership in adopting the highest standards in customs work. We communicate this through various online platforms, including our comprehensive website detailing information, benefits, facilities and services needed across sectors, trades, agents, investors and individuals.